Regular price
Sale price
32,00 NOK
Unit price
per
Sale
Sold out
15 minute unit goal and savings challenge
Each days contains of 96 units of 15 minutes.
15 minutes is not much, but think about what you actually can fit into that unit!
Make chores, exercise, goals etc more manageable by thinking of them in 15 minute units. Or activities you want to do, but don't think you have time for. Give yourself time.
Color code each chore, session, goal etc and then color how many units you spend on them. Reward yourself if you manage to color all fields every day!
Buy the sticker sheet as or the kit with 2 sticker sheets and a savings envelope
HOW TO USE IT
TO MOTIVATE AND TRACK EACH DAY IN YOUR PLANNER
Find what areas in your life you need more motivation and a push and color code them on the single box sticker. Then color the fields on each box sticker as to how many 15 minute units you spend on each. Make it a goal to color all 12 fields each day.
Use markers or color pens in different colors, or smal dot/circle stickers.
Note: You don't have to do all things every day, the goal is to spend 12 units of 15 minutes each day on things you decide is important for you. This can change as the weeks go.
SAVE MONEY DOING IT AS AN EXTRA MOTIVATION
Set a savings goal on the cash envelope, divide it by 12 (weeks) and save that amount each week you manage to color all fields every day. Use the money for YOU. Maybe you should find out what you want to spend the money on before you start?

HOW I USE IT
At the moment, this is my color coding:

Peach: Clean Kitchen/Dishes
Mint Green: Walk/Hike
Purple: Read
Neon Green: Laundry
Black: Small chores I "hate" doing
Red: List items for sale
Yellow: Do something "not me" to explore more
Grey: Vacuum, clean, dust


Share
View full details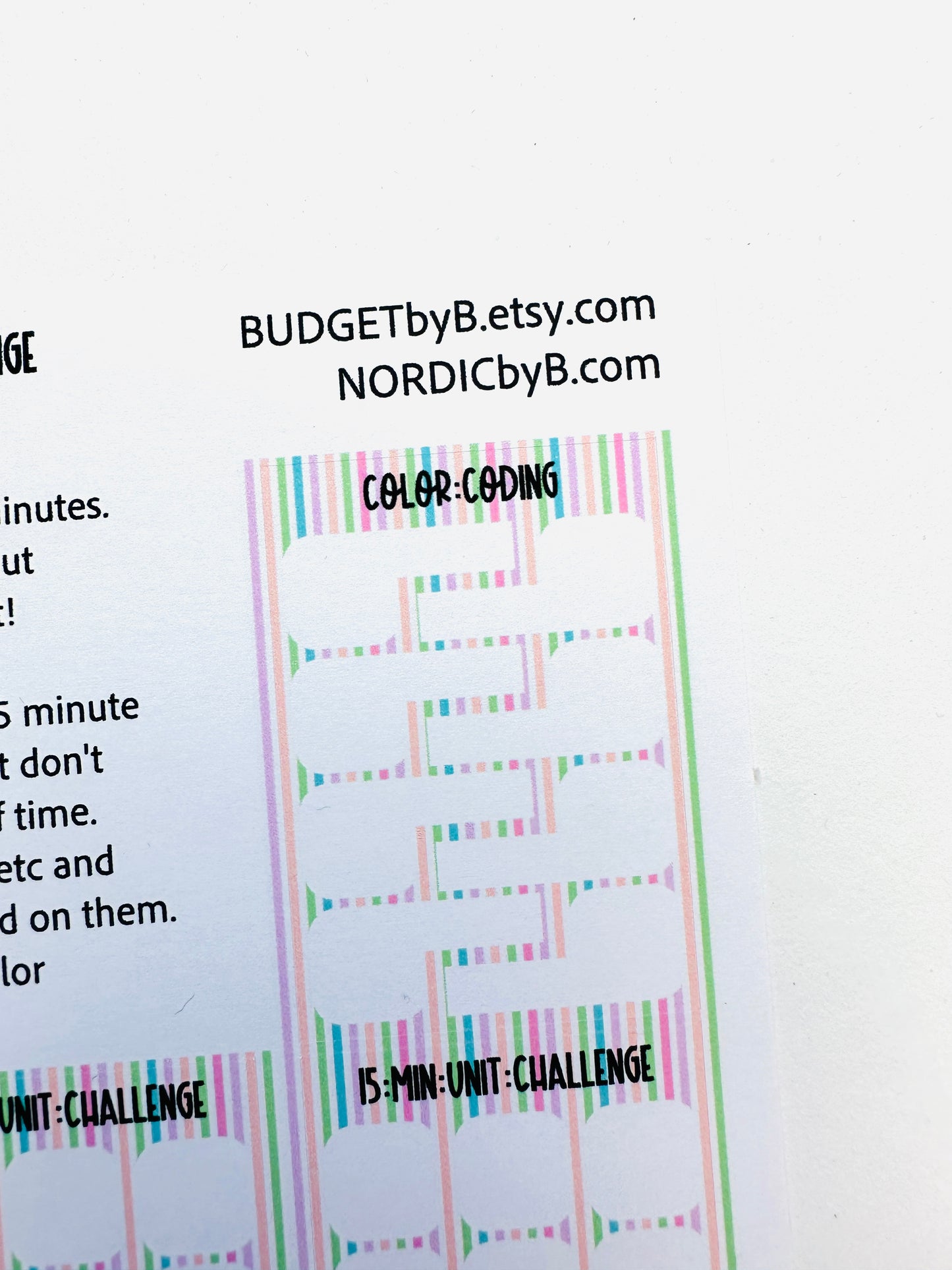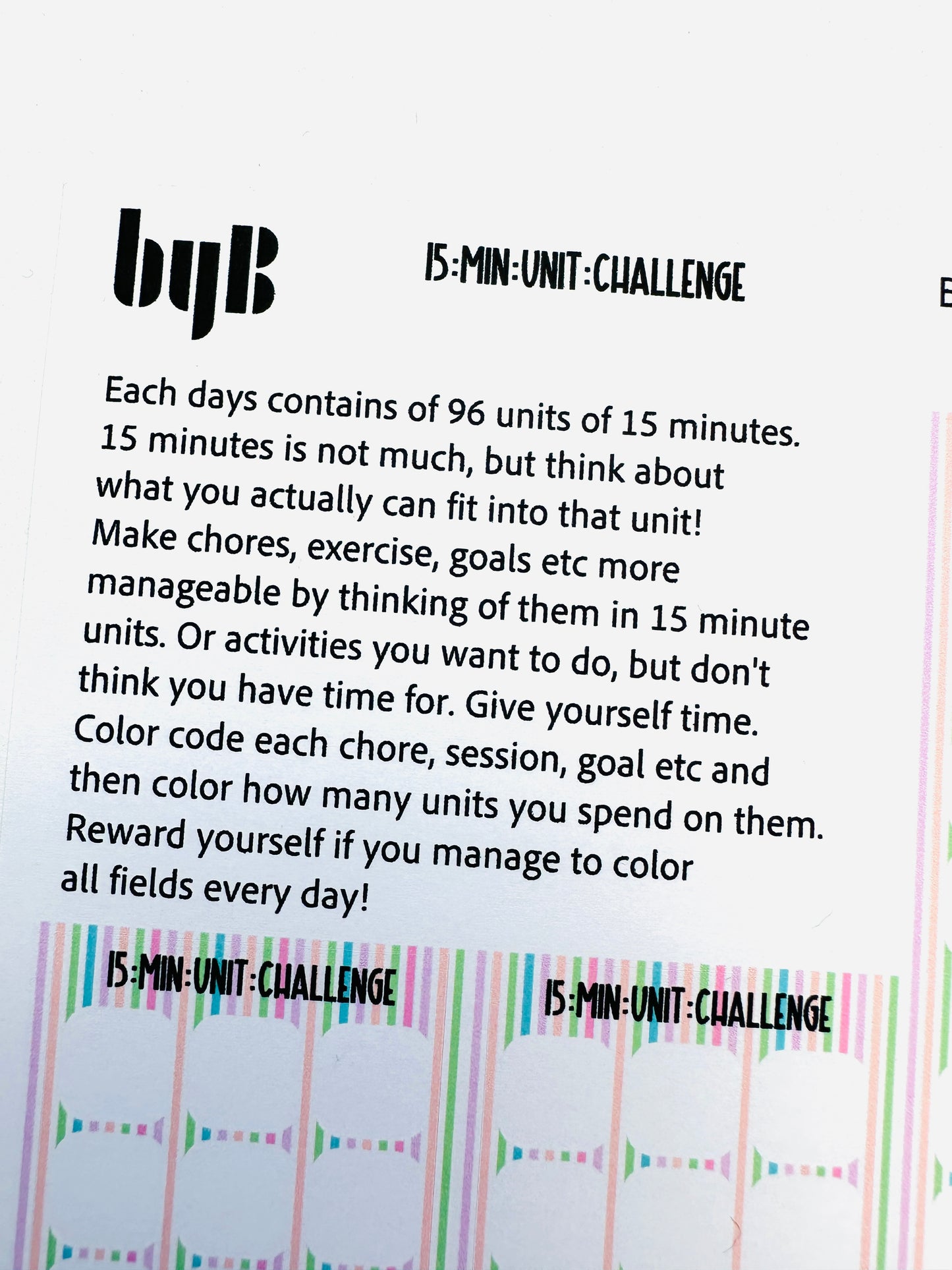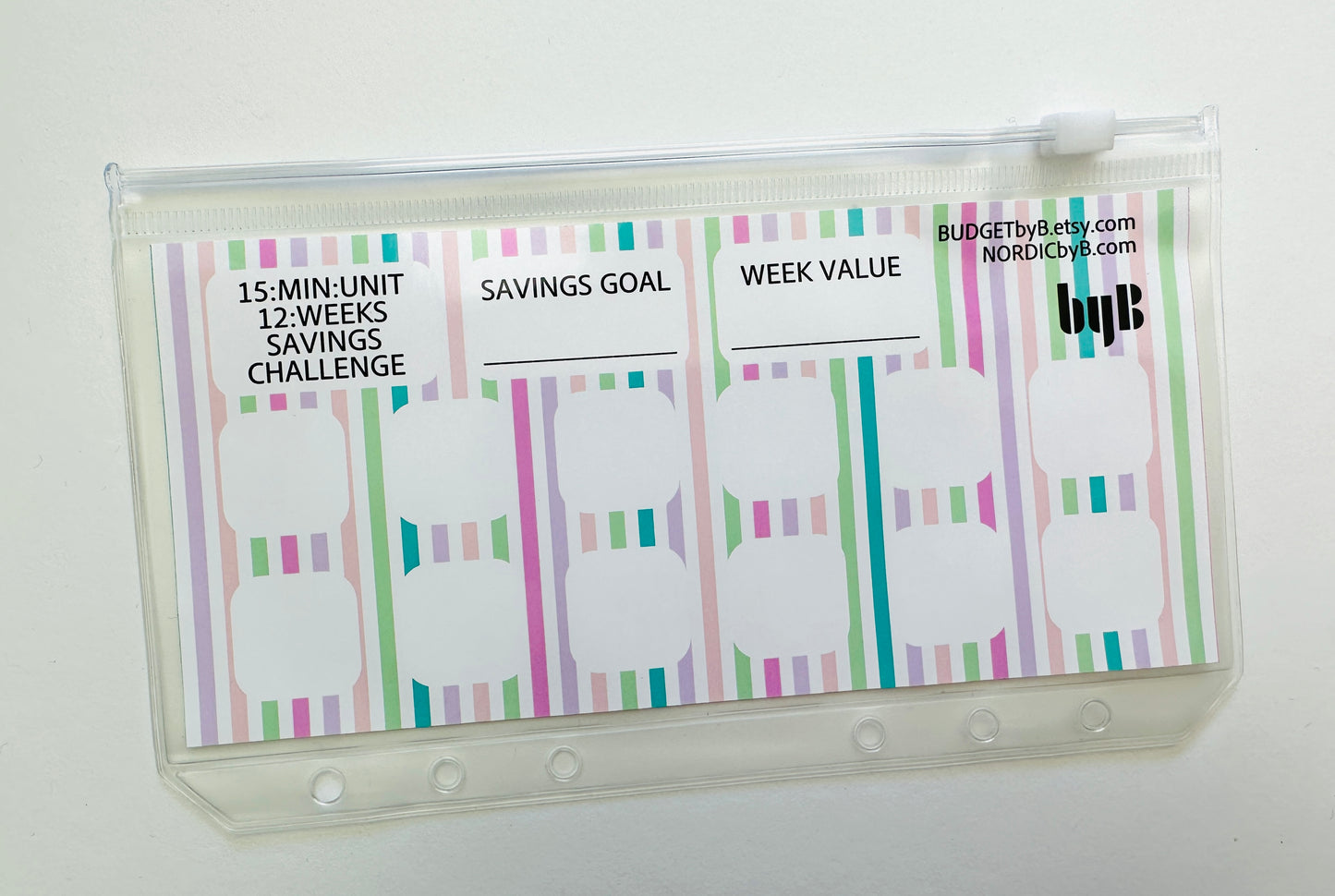 PROCESSING TIME & SHIPPING

Normal processing time is 3-5 days from an order is confirmed. During sales and holidays processing time might be a couple more days. Shipping time will vary depending on where in the world you live, and what shipping option you chose.
Our warehouses are located with about a 3 hour drive between them. Most items are stocked at both warehouses, but in cases they are not, there might be a slightly delay on our end.

MADE TO ORDER

Items that are made to order, like our iced coffee glasses with customizable text, will add to the processing time. Please note that product customization might need some follow-up questions, so please check your email a couple of days after ordering! Made to order products are usually made within 3-7 days after the design is made.